Hello everyone!


I have been working on a Powerpool NFT Index that provides exposure to the huge interest and potential in the NFT sector. NFTs are poised to capture trillions of dollars in market value from traditional markets. If we segment the current NFT market then the main sectors are: art, collectibles, physical goods, Defi for NFTs, and the meta-verse. In the future prominent sectors will expand to include music, documentation, and events.
Index Composition

Enjin (32.1%)
Decentraland (22.6%)
Sandbox (12.2%)
Rarible (10.3%)
Lukso (7.5%)
NFTX (6.2%)
Superfarm (5.8%)
Origin Protocol (3.3%)
Alternatives:


9. Flow
10. Aavegotchi
11. Axie Infinity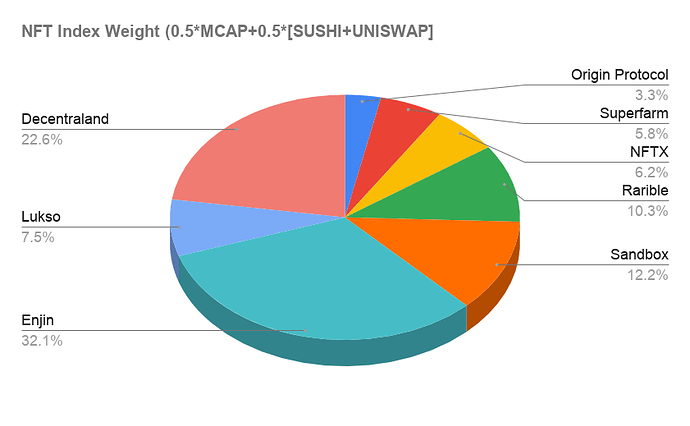 Reasoning:


The projects chosen are leaders, and considered blue chips, in the NFT field across different segments with enough liquidity across Uniswap and Sushi. The weight algorithm used for DAMM is
0.5MCAP + 0.5[SUSHI + UNISWAP VOLUME]
This algorithm balances the index based on liquidity across DEXes and market cap which better balances the composition.
Additional Data


Further Points


The Index's weights or composition may change if projects offer a boost to the index.
Index Name


Please offer suggestions for the Index's name!

Acknowledgments:


Thanks @Sergey for creating the weight algorithm. Additional thanks to the rest of the Management Board team for prioritizing this Index. @vasilysumanov @Zero @DrGonzo.
Like and Retweet my Twitter Update
Look forward to hearing the community's thoughts!