Hey there
Back with version two of my on-chain analysis. For this we will be primarily looking at Santiment and Nansen data. If there is sufficient interest I will do a study on wallet behavior next.
Primary objective of my study was to explore how metrics changed in the past few days since the Binance listing occurred. We have some interesting figures to begin with.
Active Wallets Trending Above Average
Active wallets have been increasing. Santiment defines an active wallet as any address that has actively engaged in a transfer or receipt of CVP token in the last 24 hours. This number is only going to increase with the index launching in the coming week .For a sense of scale, during ATH, we had 3258 active addresses. We are at ~800 as of Binance listing.
This is interesting because we are at the cusp of new wallet interactions skyrocketing on PowerPool within the coming week as income streams from the index and oracle begin increasing.
Accumulation going strong among whales
Secondly - the number of holders in the network have steadily been increasing. If you look at the charts below and compare with price action, you will notice that the whales began accumulation in October at the bottom of the rally and have likely booked some profits in the past few weeks. On the other-hand, wallets with over 1000 coins in them have been steadily increasing in the past week. We will likely see this trend continue
Float is only about 4%

Okay title may be a misleading in that the float is higher than 4% because anyone can move money to exchanges. But the amount of assets combined on both dex and centralised exchanges is barely 4%. With the index launch close, I see this creating a liquidity crisis of sorts where the index is unable to source CVP tokens at the current price. In order to understand why, explore any of the CVP orderbooks (huobi, uniswap, binance) and explore how much the price would move with a buy of just $100k
On the same note, I find it interesting that CVP has made it to most of the liquid market avenues for price discovery. I think the final frontier for the asset next is now Coinbase. For a sense of scale of how little of the asset is on centralised exchanges, here's the current balance of top exchanges.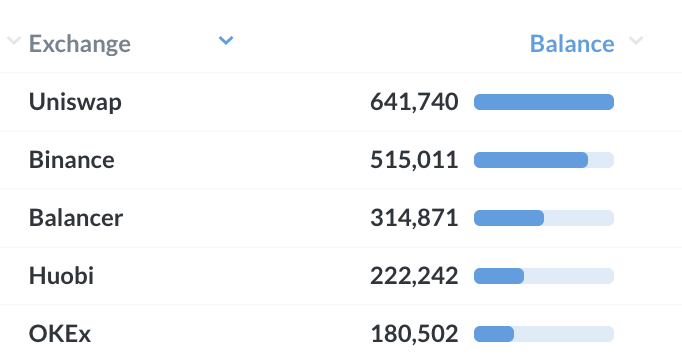 Number of wallets holding CVP Surging Again
All of this discoverability through exchanges is helping us because just in the past 10 days we had a 10% uptick in the number of wallets with exposure to CVP. I anticipate this figure to be in the 15,000+ range by end of Q1 because the index will have CVP exposure in it. As PIPT comes live, I will explore how many people use PIPT as an index instrument too.

Mean Coin Age reveals major accumulation pattern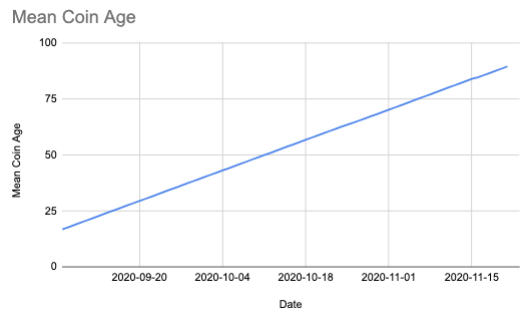 So the mean coin age is the number of days an asset stays in wallets before it is being moved. An uptrending slope for this figure shows there is widespread accumulation happening across the network in a major way. Basically, individuals are comfortable holding CVP for over 3 months at this point in time because people see the upside of holding CVP to be much higher than its current price. My guesstimate is that we will see. this figure showing a down-trend at only about $25+ And the reason for that is the next chart.
Moon boys are barely here
One thing that concerns me the most in new assets like CVP is the potential for speculation ruining actual innovation. If you study the network realised profit or loss - you will realise the extent to which people are in loss or profit. A pro-longed flat chart on network realised profit or loss shows massive accumulation. Network realised profit or loss is computed as "Network Profit/Loss (NPL for short) computes the average profit or loss of all coins that change addresses daily. For each coin that moves on-chain, NPL takes the price at which it was last moved and assumes this to be its acquisition price. Once it changes addresses again, NPL assumes the coin was sold" . Compare this with price and you will see why people wont sell until price is north of $20 again. That is the last time the network realised profit figures were as high. The question to then ask is will people sell for the same network profit figures after months of holding? I doubt so…
I hope you enjoyed reading this. Feedback and questions welcome.
I am thinking of being a protocol politician or applying for the content creator grant programme. Thoguhts on that will be appreciated in the DMs. Also a little salty about losing the temperature check programme, but whatever

See you guys at $10 when I will share my next chart series